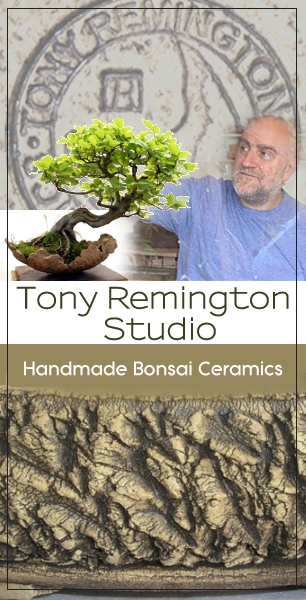 I suppose my interest for bonsai pots started when I visited a local bonsai exhibition and was fascinated by the variety of shapes and sizes of the trees and of course the wide range of pot shapes and glazes. I researched the art of bonsai looking at different bonsai forums and trying to get a feel for the pottery. I also took advice from established bonsai growers particularly Ian Cuppleditch from britishbonsai.com .
I now produce a range of individual Bonsai pots that vary in size from the smallest Mame pot to the larger piece for the more mature larger tree.
All my pots are made from a frost proof high-fired stoneware clay. My pots follow set shapes but I try to build in certain individuality to each piece by imparting throwing marks into the clay on the wheel while the clay is still wet. Each pot has its own identity. I also produce free form accent pots from crescent pots in variouse sizes to sculptured dishes. All my accent pots are decorated using oxide washes and some glazes to emphasise certain areas of the pot.
The pots are finished in a variety of glazes. I use traditional Japanese Chun glazes mainly in browns and greens but occasionally this glaze does really unexpected things in the firing giving stunning glaze effects. I also use reactive glazes from whites to greens to blues and a variety of browns.
Sometimes I mix and match the glazes just to see what will result, the mix of colours that can be achieved often surprises me! I also use a range of metal oxide washes on unglazed surfaces to give an interesting and very rugged look to the pots.I have sold these bonsai pots to collectors and growers all over the Western world and received positive comments about their functionality and durability.
I make a very wide range of pots but am also happy to undertake specific commissions; I can make a particular size, shape or colour to match a particular tree (the only limitation is the size of my kiln). Purchasing one of my studio made individual Bonsai pots would be a great addition to your collection and really show your tree at its best.